Guide to Grateful Giving
The greatest gift that we at St. Mark's receive from our school families is the opportunity to educate your children. Partnering with our families enables us to shape the leaders of tomorrow.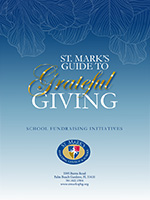 Many private schools rely on fundraising to supplement the annual budget, but at St. Mark's, tuition covers the full cost of educating your child. We do not use fundraising dollars to bridge a budget gap. Each year, however, there are necessary expenditures that fall outside the annual budget, and fundraising makes those upgrades and enhancements possible.
The School Administration prioritizes which improvements will be most beneficial to our students, faculty, and staff. The Development Office then sets the fundraising goals and implements the drives and initiatives to meet those financial obligations. St. Mark's depends upon the continuous investment of our school families in order to consistently offer the most comprehensive educational programs to our students.
Your tax-deductible contributions are a direct investment in your child's education and also help to keep tuition costs competitive. Please take a few moments to learn more by reading A Guide to Grateful Giving.