Donate to one of St. Mark's key fundraising drives
By donating, you are demonstrating your belief in our mission and educational programs. Every gift is a blessing that allows St. Mark's to continue to offer our students an exceptional education with an emphasis on personal character development. Thank you for believing in St. Mark's School.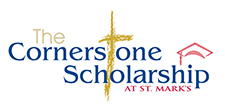 The Cornerstone Scholarship aims to transform the lives of children in underserved neighborhoods of our local communities. Funds raised underwrite all costs related to a student's education and life at St. Mark's School.